Paul T. Pitcher's Route 100
Crossing the state of Maryland, creating an important connection between Baltimore and Washington DC, is Maryland Route 100. The highway bridges the gap between US Route 29 in Ellicott City to the west and MD 177 in Pasadena to the west. The 22-mile suburban freeway also provides connections to a number of vital arteries in the area including I-95, I-97, US 1, the aforementioned US 29, and Routes 10, 170, and 295. But the story of Route 100 is more than just logistical. It was conceived by, and then the eastern section in Anne Arundel County later named in honor of, the county's longtime executive Paul T. Pitcher.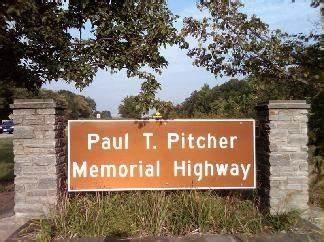 Work was completed on the officially named Paul T. Pitcher Memorial Highway on November 23,1998. The honor given to commemorate Pitcher's service as both a county executive and circuit court judge in the 1950s and 60s. Carrying on both the family name and familial connection to the highway system, Paul's son J. William Pitcher worked in the role of lobbyist for the Maryland Asphalt Association. William's work as an attorney and lobbyist continued on for more than 30 years.
Logistically, Route 100's development has solved a number of problems. In 1965 a section of just under 4 miles brought together Mountain Road with what is now Interstate 97, which created a bypass for Annapolis-bound travelers. Additional sections were added in subsequent years as the vision of the Baltimore Outer Beltway took shape. Work halted on the Beltway project during the 1970s as Maryland (and the entire nation) focused more on the completion of Interstate Highway projects. By the 1980s work on Route 100 resumed on sections connecting I-95 to US 29 and from MD 100 from US 1, along with additional improvements including the addition of interchanges and widening.
It was as early as 1955 when the Maryland State Road Commission began plans to relieve traffic congestion on the then-still-in-progress Baltimore Beltway (I-695). It is the southern portion of the outer beltway where MD 100 is built. This timeline provides a long-term perspective: that a road conceived in 1955 would then go through decades of segmented development, ultimately reaching a state of completion 43 years later.
For the Pitcher family's part in all of this, there is a sense of lasting pride in the accomplishments and legacy of Paul T. Pitcher. During an otherwise unremarkable commute, to drive past (and on) a permanent dedication to a family patriarch is something that will be a part of Pitcher family history for decades to come.